If we want to combine multiple worksheets with different column headers into one worksheet, and all column headers are in the first row, we can use this feature: Combine sheets with differenet columns into one sheet.
For example, we want to combine those worksheets with different column headers from below two workbooks into one worksheet.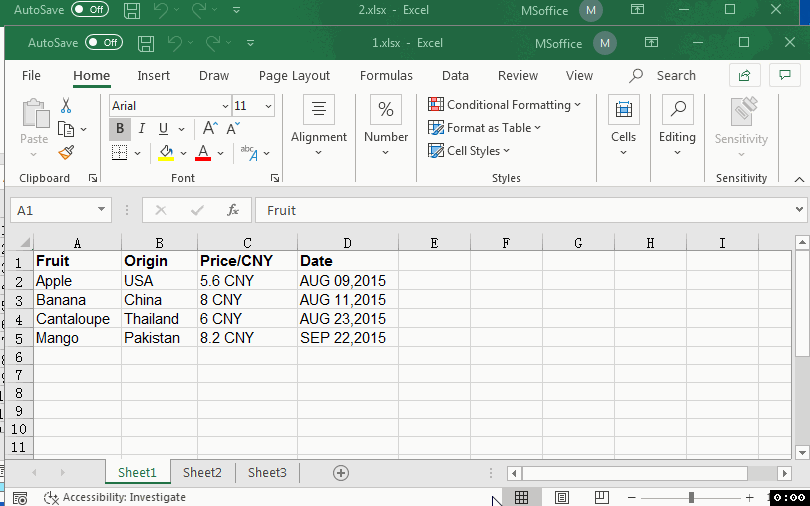 We choose the feature Combine sheets with different columns into one sheet in Combine group, and then click the Start button (upper right corner).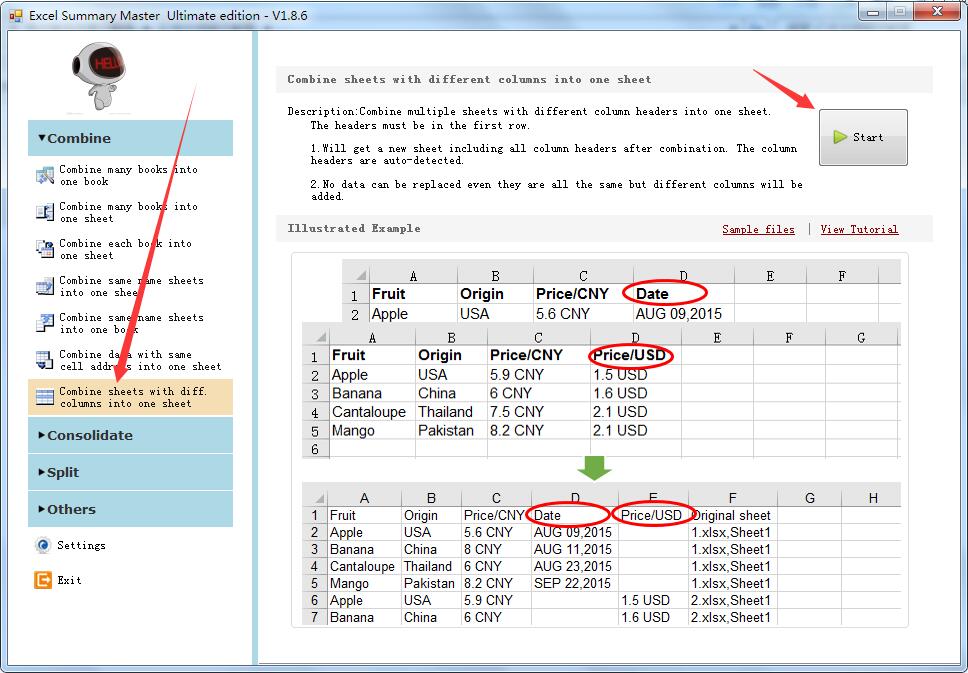 Step 1: Select excel files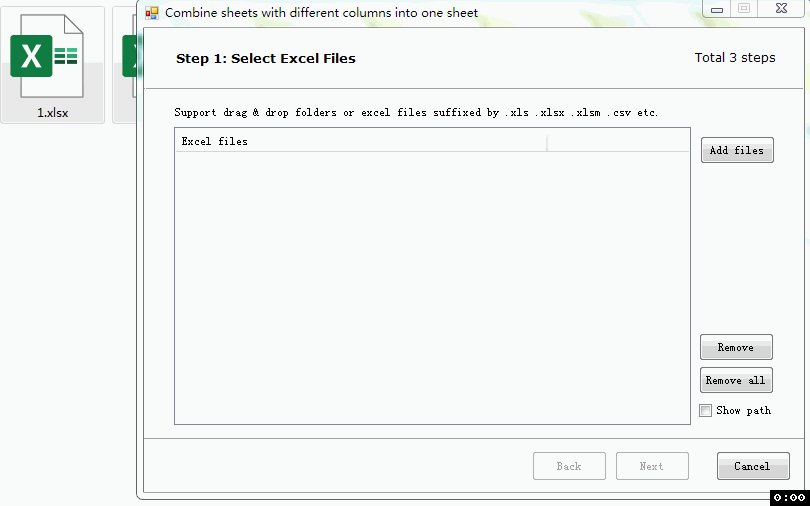 We can drag these two excel files and drop them to the blank area, or click Add files button to select those excel files you want to combine.
If there are some excel files you do not need, pls select them and then click Remove button. Click Remove all button will remove all excel files.
If we want to see the path of the excel files, pls tick Show path.
After selecting the excel files we need, and then click Next button.
Setp 2: Select worksheets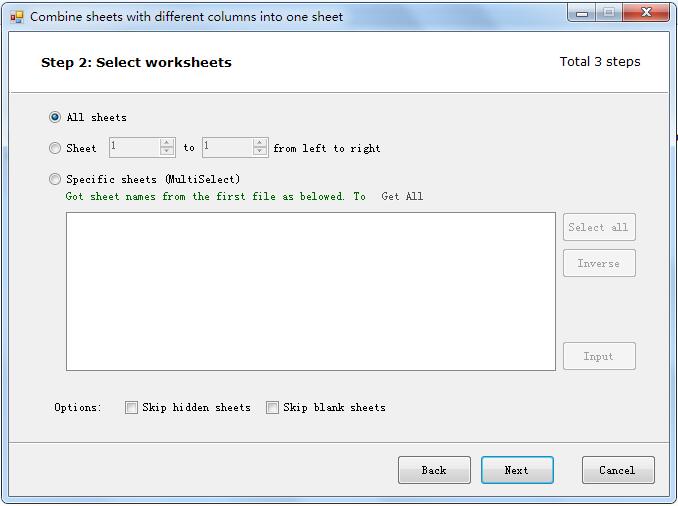 All sheets means all sheets in the selected excel files will partcipate in combination.
If we only want the first sheet in selected excel file to participate, we can choose the next option and set it as :
Sheet 1 to 1 from left to right
If we want the specific sheets in the selected excel files to participate in combination, for example the sheet 1, pls choose this option:Specific sheets (MultiSelect)
And we will get all sheets' names from the first excel file by default, and then tick the specific sheet (sheet 1) you want.
If the first excel file does not include sheet February, we can click Get All , and then we will get all sheets' names from all selected excel files. But it will take a long time.
It is better for us to click the Input button and then input the sheet name manually.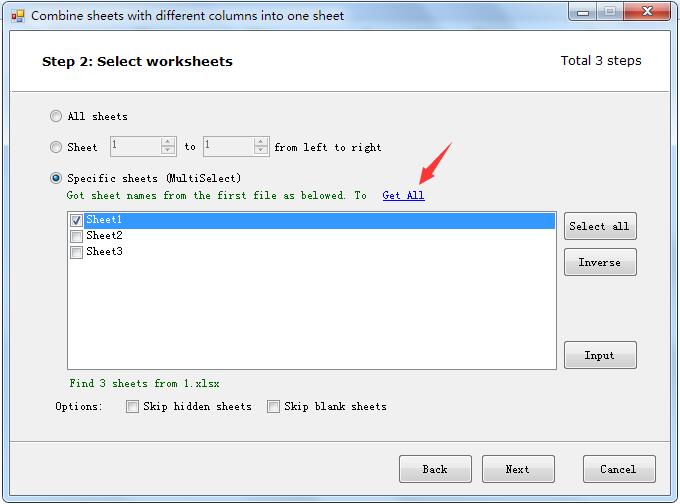 If we don't want the hidden sheets or blank sheets to be copied to the new excel file, pls tick Skip hidden sheets and Skip blank sheets. In Step 2, we decide to choose All sheets, and then click Next button.
Step 3: Ready to combine
In this step, we can click Browse button to change the saving path of the result workbook if we do not like the default saving path. And then click Start button. Some seconds later, combination completed.
Finally, we get a workbook whose name is Result.xlsx and there are only one worksheet in this workbook. Let's open it and have a look.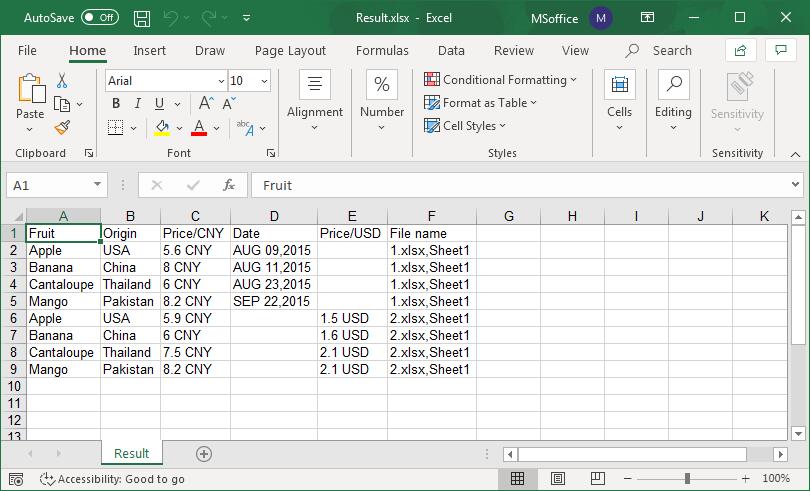 There are two worksheets wilth different columns were combined into one new worksheet.
This new worksheet including all column headers after combination. The column headers are auto-detected.
No data can be replaced even they are all the same but different columns will be added.